Well Synergy
Background:
Well Synergy International Limited is one of the leading value-added marketing and distribution company in Hong Kong with quality brand management, strong sales network coverage in the fast-moving consumer goods industry. They are proud to be the distributor of Nepia Genki, a leading international infant nappies brand, and SPLAT, a UK based toothpaste brand.
Well Synergy launched their own eShop called WESHOPHK to sell all their brands. The website's search engine visibility was not great. At first, when visitors searched for branded keywords like 'Nepia Genki" or 'SPLAT', the WESHOPHK website was not found.
Well Synergy's marketing team approached YouFind to improve the search engine visibility of WESHOPHK, increase website traffic and ultimately, improve eShop revenue. They want to start by focusing on Nepia Genki and SPLAT brands first.
Objectives:
Improve WESHOPHK website search engine visibility focused on the Nepia Genki and the SPLAT brands
Increase eShop traffic and revenue
Our Strategy:
We started this project by conducting a number of customer digital journey audits, which looks into online demand of these products, consumer search behavior, search engine visibility of the Nepia and SPLAT brands on WESHOPHK and their competitors'. Sources of online traffic and revenue were also investigated. And by comparing the organic search engine visibility of WESHOPHK with their competitors, we identified significant potential for improving search marketing.
Our audits also revealed that there were some technical issues with the website set up, which made it not search engine friendly. We quickly fixed these by modifying title tag, meta descriptions, and URLs, updating metadata, and re-build site structure and linkage. Website images were also compressed to improve loading time. These required many hours of work, fortunately we were able to use our self-developed Search Maximizer platform to automate some of these processes.
Our digital analysis also identified a series of related keywords that receives a significant search volume. These 25 keywords such as '尿片size', '尿片優惠', 'nepia genki', '敏感牙齒解決' and '美白牙齒方法' receives close to 300K Yearly Search Volume. We decide to focus our SEO efforts on these keywords and created relevant online contents for SEO. Educational type blogs such as 'BB尿片你要知!一文帶你認識BB紙尿片' and '美白牙膏邊隻好?五款美白牙膏大比拼' were published on WESHOPHK website and relevant 3rd party sites.
Results:
Organic traffic increased 18 times (Unique Visitors increase from 34 in March-2022 to 611 in August 2022)
Organic traffic contributes to 85% of total traffic between March – August 2022
Search engine visibility significantly improved when searching for related keywords: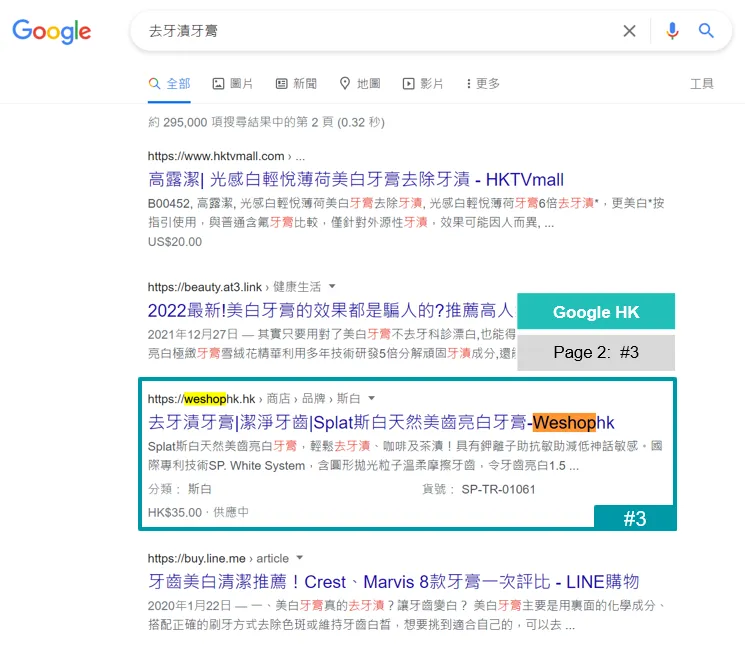 Results:
Achieved 105% of agreed SEO KPI for specialist medical services (Google)
Achieved 200% of agreed SEO KPI for emergency medical services (Google and Yahoo)
Increase conversions including app downloads and Contact Us form submissions (Any updated figures to share?)
Enhanced search engine visibility against target keywords: